Cheslin Kolbe rips the soul out of Jacob Stockdale for a THIRD time in phenomenal Champions Cup moment
Cheslin Kolbe has yet again embarrassed the Stockdale name with another phenomenal try in the Champions Cup. It was sensational to watch!
It sums up a dreadful year of rugby for Jacob Stockdale, who has found himself on the receiving end of many a Cheslin Kolbe sidestep.
It will serve as a chilling reminder to Ulster rugby fans who will have had flashbacks to the sidestep that he inflicted on the 24-year-old earlier in the year.
Toulouse won the game last night, as they look to build on a strong champions cup last season. They will go into the tournament as favourites with the likes of Dupont, Ntamack and Kolbe helping to make this French side serious contenders to win the competition as a whole.
The clip has been going viral on social media over the weekend.
™️#HeinekenChampionsCup pic.twitter.com/W0divTjN7a

— Rugby on BT Sport (@btsportrugby) December 11, 2020
If you are not able to view this step here, you may be able to see this GIF instead.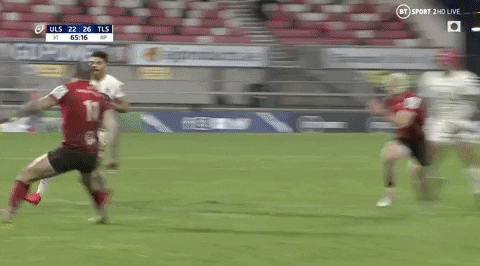 Stockdale himself has taken quite the battering on social media yet again after the clip went viral.
Cheslin Kobe could sidestep Jacob Stockdale inside a glass case of emotion #ULSvTOU pic.twitter.com/uIVotjKvBs

— Whisky God (@Paddyjock) December 11, 2020
Cheslin Kolbe pulling out the quintessential Jacob Stockdale try in the land of Jacob Stockdale is a real power move.

— Michael Morrow (@MichaelMorrow93) December 11, 2020
Stockdale and Kolbe looking like they have some unfinished business with each other tonight #ULSvTOU

— Clare Molloy (@ClareeMolloy) December 11, 2020
Jacob Stockdale will undoubtedly be having sleepless nights about the Springbok World Cup winner, who has regularly got the better over his Irish counterpart in the past few months.