Footage has emerged showing the game that tricked fans into thinking Gavin Henson was 'back'
When people think of Gavin Henson, many picture the young, spiky-haired maverick from between 2005-2008. What many people don't know was that in 2014, there was a period when people thought he was hitting his prime.
Henson has one of the saddest stories in rugby. A raw talent who had all the makings of being one of the best players that Wales' ever had. Sadly Henson's rugby career wasn't quite big enough to hit the peaks that everyone expected of him.
Having said this, he still was a two-time Grand Slam champion and a Lions player.
https://twitter.com/RugbyPass/status/1248591789327560704
After 2008, Henson seemed to completely drop off in terms of form, with players wondering if he would come up back to the form which made him so massive at the start of his career.
There was a game in 2014 when Gavin Henson played for Bath which convinced the world that he was truly back for good.
Henson played briefly for Bath back in this season and he wowed rugby fans with a couple of the performances that were simply World class.
In that season, there were glimpses when he showed signs of his brilliance. This hand-off on Billy Vunipola was one of them!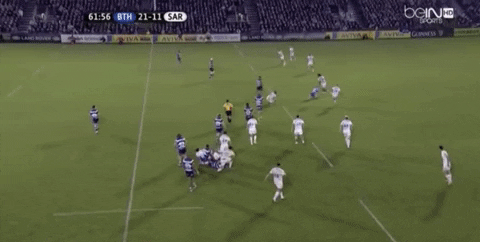 But there was one game which really made people think Gavin Henson was back.
Henson came up against Brive in a Challenge cup game, and the Welshman was absolutely everywhere.
After this game, there was articles asking whether Henson was ready to play for Wales potentially in the Six Nations, and even a 2015 World Cup spot.
He was honestly ridiculous in this game!
It's funny looking back on the comments for the game.
People were so hyped to see him back!
The pass at 1:16 is what Wales have really been missing for the last few years.  Henson has that natural ability to draw in several defenders and get the pass away that, sadly, our current centres just don't seem to have.  One of the most naturally gifted players Wales has ever produced.  Cracking vision, able to pass the ball into exactly the right place at the right time, deceptively quick, powerful, massive kick.  Such a shame how it turned out.