People are amazed at how embarrassingly poor the Sharks back 3 are in defence
We had to look back on the highlight reels to confirm our suspicions, and it was true. The Sharks back 3 are incredible in the attack, and simply awful in defence.
It's a real shame to see.
The Hurricanes flyers in Ngani Laumape and Ben Lam tore the Sharks defence to shreds with some of their plays.
We are going to show you a couple of examples of just how bad it is then we will show you the full highlights so you can see for yourself…
Everything about the Sharks D was horrendous.
In this first example here the Sharks winger does use any situational awareness to defend…
This was just the tip of the iceberg as there was multiple cases of this in defence.
One of the Sharks defenders missed EVERY tackle in this match, even by Super Rugby standards that is awful.
This try for Laumape is another example, with there being horrendous decision making when he tried to attack the ball in the air! Awful defence!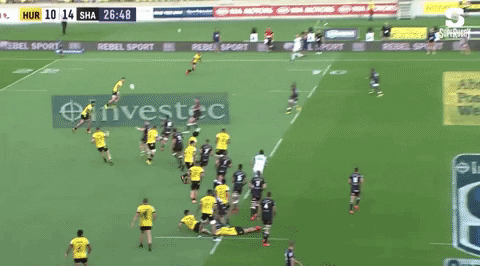 There are so many more examples of this awful defence from the Sharks and it without a doubt cost them this match against the Hurricanes.
If you watch this video below with the full highlights you can find so many more examples of how poor their defence really was…
The Super Rugby fans were not too pleased at all with the defence that they saw as well and they voiced their unhappiness in the comments under the highlights of the match…
– The  full back is useless playing tough rugby
– Apparently, tackling was optional here
– Wowwingers/fullback are useless in defence 😂😂
-Give the back 3 the ball, you can see magic happen. Ask them to defend… ooops daar kak n brak.
– Sharks conceded some soft tries
– Backline was useless in the air and with tackling