Fans have finally lost patience with Johnny Sexton as he lets himself down in captain debut
Rugby fans appear to have had enough of Johnny Sexton after he let himself down yet again today in the Six Nations match against Scotland. Fans are losing patience…
The new Ireland captain started well for the Irish team, scoring early after a slick move down the left hand side against the men in blue.
Here was his try that he scored here…
Slick as you like@JohnnySexton scores @IrishRugby's first try of the Championship with a beuatifully executed play #IREvSCO #GuinnessSixNations pic.twitter.com/YBhf06kzps

— Guinness Six Nations (@SixNationsRugby) February 1, 2020
However things turned sour later in the first half when the Irish legend did this in the 30th minute of the game.
Scotland flanker Hamish Watson appeared to hit Sexton (very lightly) on the jaw, and his reaction shocked even us.
The reaction that Sexton gave was right out of the football draw and he stayed down for a long time after the hit.
However, moments after he heard that Ireland were awarded the penalty he was up on his feet again and ready to clear the ball. This was clear bad sportsmanship from Sexton and it's not reflected well on the Irish captain.
Fans online were not happy at all with Sexton for this…
Emmmm simulation creeping into rugby which I can honestly say I am NOT happy about! And the worst culprit Sexton FACT #IREvSCO #sixnations2020

— Ewan McCrostie (@EwGaAmRo) February 1, 2020
Johnny sexton you are a cheat

— paul wellcoat/PW Photography (@mickeyblue1) February 1, 2020
Love watching Sexton getting worked up the little girl is close to caring again #IREvSCO

— alan passingham (@truckingfridge) February 1, 2020
On top of everything else Johnny Sexton is still on the ground when Hamish Watson hits him. #IREvSCO

— RugbyRoustabout (@RugbyRoustabout) February 1, 2020
https://twitter.com/kennedy798/status/1223657945843621889
Was sexton just told to get up by his own team mate? Bit embarrassing that #IREvSCO

— Jimmy Lye (@jimlejog) February 1, 2020
In the clip below Sexton can be seen going straight to the ground as he knows there is a scuffle around him…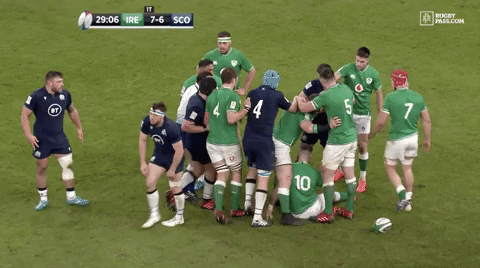 Yet straight after he knows the penalty is won he is up again and plays fine for rest of the half…
This is not what you expect to see in rugby, especially from a captain of you team.
Are we going to see more poor sportsmanship like this if he gets away with it and wins penalties?
Ireland are certainly benefiting from it in this match.
Here he can be seen getting up again directly after he wins the penno…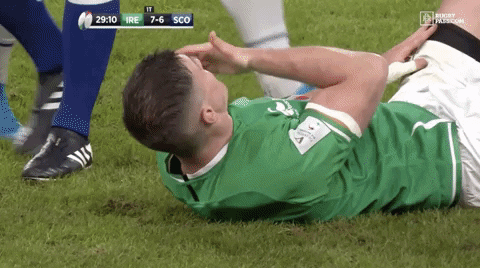 Ireland are currently leading Scotland as we are about to enter the second half. Sexton is still on the pitch and his jaw appears to have somehow recovered from this hit.
We are losing patience with this…