Scenes in Japan as Wales TRAIN in front of 15,000 people
There were fantastic scenes in Japan today as the Welsh rugby team train in front of more than 15,000 people. In the Kitakyushu heat, the Welsh squad performed their drills as the large crowd belted out Hen Wlad Fy Nhadau.
Many have already spoken highly of the warm hospitality that they have received in Japan as the hosts aim to make this the best World Cup ever.
Videos have already emerged online of the Japanese public learning the South African national anthem, and it was no different here as the crowd, who appeared to be mainly locals, sang as loud as they could in front of the Welsh team.
CREDIT: Welsh Rugby Union
There isn't much more we can say than just let you watch this…..@rugbyworldcup pic.twitter.com/8yTcRZL9YU

— Welsh Rugby Union 🏉 (@WelshRugbyUnion) September 16, 2019
As the Welsh prepared to train at the stadium, the crowds and lines of people could be seen building outside the stadium. Trily incredible to see. To put this into perspective, the Brumbies played in front of crowds of up to 8,000 people this year, this is almost double that. Imagine if the Japanese public keep this up, which we fully expect them to.
CREDIT: Welsh Rugby Union/Instagram story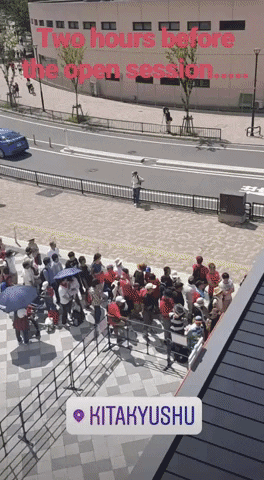 With a drop in crowds, the Brumbies are looking to drop ticket prices. While Wales train in front of thousands, the Brumbies will be hoping to play in front of that amount.
The Plus500 Brumbies are turning back the clock in 2020 with their membership prices reverting to the same level as those a decade before!
To celebrate the 25th Anniversary of Super Rugby, and the Brumbies formation in 1996, official club membership prices are the lowest they have been for the past ten years offering supporters superb value.
Some packages have been reduced by as much as 30% making a season of Super Rugby at GIO Stadium one of the cheapest entertainment options around. Indeed, a family of four can see every game for just $30 per match.
"We are delighted to be able to offer reduced membership prices across the board for the 2020 Super Rugby season," CEO Phil Thomson commented. If Wales train in front of double this, they'll want to slash those prices.
"The Brumbies ended last season playing some spectacular rugby, scoring more tries and more points than ever before, and we would encourage our loyal fanbase to come out in numbers and get behind a young and exciting team in 2020."
Platinum memberships, the highest level of membership for the 2020 season, have been reduced by as much as $75, with a season membership just $320 for eight high-level matches.
All season membership categories will be cheaper in 2020 than they were prior to the seat re-categorisations in 2016.
With earlier kick-off times, home matches will now commence at a more family-friendly time of 7:15pm, and two Sunday afternoon encounters starting at 4:05pm, now is the ideal time to show your support of your team.