The moment when New Zealand rugby realised it had to change – Worst passage of All Black rugby ever
We are going to take you to a passage of rugby during the 2019 Rugby World Cup which many can agree may be one of the worst passages of New Zealand rugby that we have ever seen.
The good people at Rugby Onslaught have been working with our analysis unit to uncover exactly what happened to the greatest rugby team on the planet in that night in Japan. We think we may have worked it out.
The Footage that we are about to show you is from the second half of the World Cup semi-final between England and New Zealand. This passage of play could be seen as the moment when England proved that they had truly worked out New Zealand's attacking plan, leaving them void of any real of countering this attack.
It all starts with a scrum to New Zealand in England's half, normally a perfect attacking opportunity for them.
New Zealand's game plan at this stage would be to attack from the scrum to the blindside, then play the ball back into midfield dominantly, then go back to the blindside.
England worked out their gameplan and knew this was the case, so what did they do. Tuilagi and the team know the All Black's somewhat predictable gameplan from the off so they can pressure the New Zealand rugby team as much as they want.
Tuilagi comes flying out to surprise the team with a thunderous hit.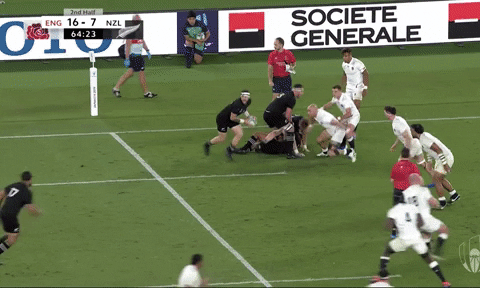 It's clear that this tired and predictable play style by the men in black had finally been found, despite its effectiveness in the past. They have no answer to it.
They try and head back down the blindside but Richie Mo'unga can see that his players are about to get clattered so dummies and runs himself.
As the All Blacks tries and make metres in the middle of the pitch, his teammates are met with massive hits from English players who know exactly where the ball is going to come to.
This is what an All Blacks side looks like when their game plan is completely worked out. They try and make yards again in the midfield before Itoje sends the other All Black lock into the dirt.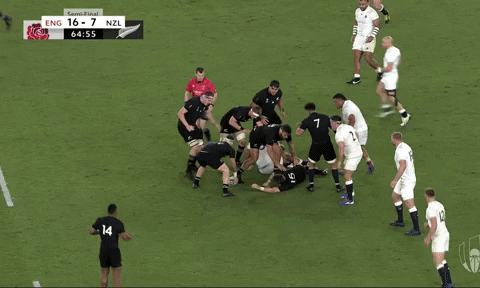 At this stage, Barrett and co have nothing to but clear the ball. England play the ball back and then they lose the ball again to England as Whitelock loses his head, confirming the fact that New Zealand truly had no answers once they had been worked out.
You can see Whitelock strike Farrell here, reversing their own penalty.
Since this match, which unbelievably was the last game that New Zealand have played in if you discount the 3rd place playoff, the All Black have completely looked to change their team.
A new coach, a new captain, and a whole host of new players.
Was this short phase of play the moment when New Zealand realised something needed to change?
The full passage of play can be viewed here.