Hilarious footage reveals the day the Welsh changed Mike Brown forever
If you ask rugby fans who they least like as a rugby player. You will get many answers. Owen Farrell, Chris Ashton, Alun Wyn Jones. But many would say Mike Brown. The Welsh changed Mike Brown on this day in 2013.
Old footage from the 2013 Six Nations clash between Wales and England made their way into our recommendations this week and it reminded us of one thing. Mike Brown has never really been quite the same since this match.
Going into this match, England were heading for a Grand Slam.
All they had to do was beat a spirited Wales team, who could steal the Championship from the men in white if they won convincingly.
And they did just that.
The match was one of the single most dominant performances that Wales have put in against England.
This changed Mike Brown for multiple reasons.
One, he was absolutely destroyed by Justin Tipuric, a flanker, to score the try that would seal the win.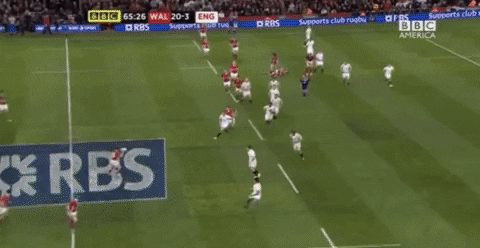 But if that wasn't bad enough.
It was this moment a few minutes after which really sealed the humiliation.
We were watching back the replay, and we saw that a stray ball hit Mike Brown straight on the face while he was talking to referee Steve Walsh.
We know we should not laugh at a misfortunate bit of bad luck like this, but it is funny.
Here is the clip of Mike Brown getting whacked by the ball.
Wales went on to win that game convincingly to snatch the Six Nations title away from Stuart Lancaster and his England team.
As for Mike Brown, this certainly changed him.
Mike Brown is a brilliant player for sure, however. He even had a bar named after him at his club at Harlequins which does show how well-liked that he is!