Neil Back reveals what Martin Johnson did just before the 2003 World Cup Final
England legend and World Cup winner Neil Back sat down with former Leicester mate teammate Jim Hamilton recently, looking at some of Back's World Cup memories. Martin Johnson was the main topic of discussion in this brilliant interview.
The 50-year-old back row spoke extensively about his experience with England at the World Cup in 2003, saying that they had such a strong mindset that he was confident the team would win the 7 games in a row that would be needed to win the Webb Ellis trophy.
The interview was brilliantly edited with graphics showing what actually happened. There was a hilarious story about the time Austin Healy was called up as an injury replacement for Kieran Bracken, only to find out he had recovered from the injury after he had landed in Australia.
One of the best moments of the interview was when Back spoke about a moment just before the team walked out for the 2003 World Cup final against Australia. Back spoke about Johnson used to always turn around before he walked out and say a few words to the players.
He spoke about how the final was different.
CREDIT: RugbyPass
Back said that Johnson's decision to do this just before the final was what the team needed to gel in unity, and it obviously worked as England came out narrow winners thanks to a Jonny Wilkinson boot.
We loved some of the graphics that accompanied Neil back's interview about the final, like this graphic of Jonny Wilkinson kicking that now-famous drop goal against Australia.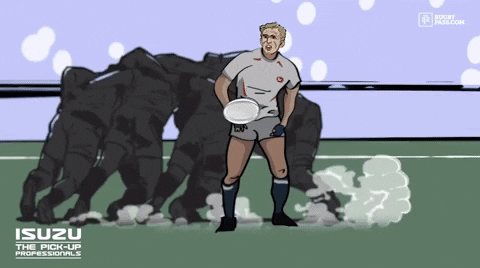 England will be hoping to emulate the 2003 World Cup team in Japan this Autumn, and with the World Cup now only 3 days away, it's now time for this England team to see if they have that same mentality.
England begin their World Cup campaign against Tonga this Sunday.