Rugby 08 is sadly still the best rugby game on the market 12 years after release
Rugby 08 is sadly still the best rugby game on the market 12 years after release. We decided to look back on the massively popular game and it still holds up all these years later!
Rugby fans have been devastated for the past decade as EA has avoided rugby better than Ireland have avoided semi-finals.
Rugby 08 has had an incredible impact on rugby culture.
Even during the 2019 Rugby World Cup it was still being referenced.
https://twitter.com/rugbyworldcup/status/1140610166318084097
For April fools this year, we pretended that EA sports were about to release 'Rugby 21', and people lost their minds. You can find that article here.
We thought it would be worthwhile revisiting Rugby 08, all these years later.
Licencing
The first thing that we loved about Rugby 08 was licensing! This means that every team is officially listed and there aren't teams that have fake players.
Recent games such as Rugby 20 have only managed to get half of the teams officially licensed so you end up with teams like England and New Zealand not having the correct players. Complete killjoy.
Graphics
The graphics for Rugby 08 were incredible for the time.
This is an example of the graphics. This is South African full-back Percy Montgomery.
Another brilliant indicator of just how good the graphics were the player movements.
Look at the All Black haka here.
For a game that is thirteen years old this is impressive to say the least. You can players like Tana Umaga and Jerry Collins taking part in the war dance.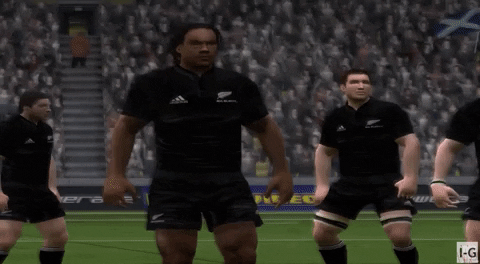 It's such a shame that these graphics are still the best that we can see in our sport. Games such as Rugby 20 or Rugby challenge can only hope to come near to this level. Which is sad in itself!
Gameplay
This is the main thing that makes Rugby 08 still the best rugby game to play to this day.
Below we are going to show you a HD replay of what a normal game would have looked like back then. We decided to dust off a copy ourselves and the gameplay is just like this.
Relatively smooth, simple controls and most importantly, enjoyable to play!
If you're interested in grabbing a game while you don't have much on. They're selling some incredibly overpriced copies on this site.